The Art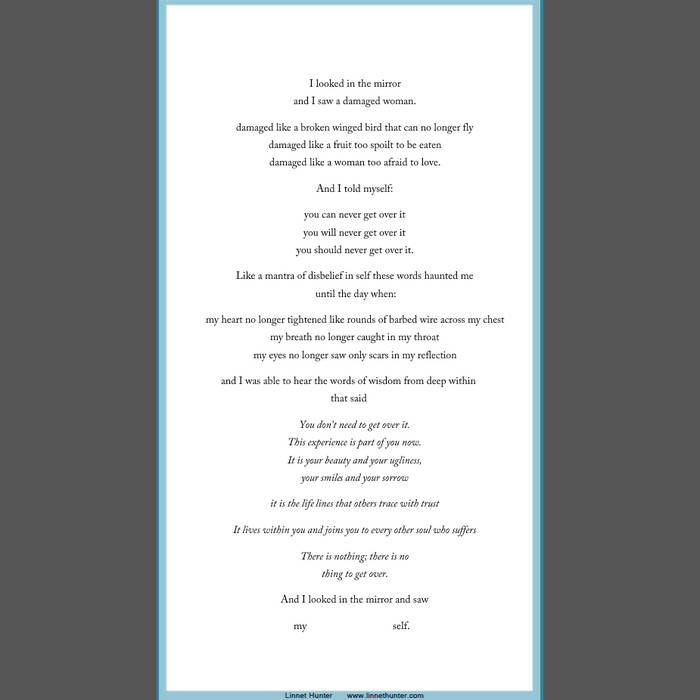 Linnet Hunter's "I looked in the mirror"
Poetry from her "Spirit & Heart" collection, 2014.
Website 
Linnet Hunter writes... 
I have been writing poems since I first discovered there were poems, but the ones here are not written in the way I conposed little rhymes when I was a child. The poems of my adult life appear fully formed, having gestated unseen and unknown until they suddenly arrive from Some where Else. 
They come all at once, complete and  can rarely be improved by my penmanship. 
I have learned that when a poem calls I must stop whatever else I am doing, grasp my pen and capture them there, then, that moment. If not I will not hear them knock again.. or not that particular poem at any rate. My poems ar a gift, given to me, and now that I realise that, I am able to share them. 
moving past the mirror
Helen Davey
"Moving on" (for lap-harp, accordion, piano, 2 cymbals, congas, percussion)
Read more…
I liken the themes in this beautiful poem to the inner work of the creative process and the vulnerability and courage that are often the cohabitants of creating something. I was musicking with tension and resolve and trying to capture the transition from uncertaintity to a sense of trust, using harmonic, chromatic and rhythmic element;  I loved Linnet's lines about wearing our experience on our bodies – our life lines  –  as I often feel we're like living sculptures. 
I have had the honour of collaborating with Linnet in my Salon Series - where she has presented her texts as I sound-paint. Whereas with live sound-painting - it is a wholly improvised, quite theatrical thing - I'm limited to sounds I can make with two hands, two feet and my voice. 
With recorded sound-paintings I can re-work and edit my music, adding or stripping away layers of audio until it feels complete. I love BOTH processes 🙂 
Dearest Helen, I feel you have not only captured the transitions, the feelings and the experiences behind the poem, but also freed them, to move through the air with all their ephemeral poignancy and pathos. 
Thank you so much for this precious present and for giving your gift back to the world in this way, 
Love  Linnet

Linnet Hunter